HF Tower and Beams
Updated 05-Jun-2023  13:58
[back to W1TR Antennas and QTH]
I recently happened upon a Tri-Ex LM470D 70 ft crank-up tilt-over tower which I got from a former UConn Marching Band classmate (K1YR) in the New Haven area (he and his wife retired and moved to Hawaii but couldn't take the tower).  I also happened upon a Force 12 C4SXL (a combination of a C-3S 10,15,20 m beam and a EF-240S 40m) beam from John N1PGA who thought it was a good idea for him at the time, but couldn't find a way to use it at his station.  This beam has been installed while I contemplate a SteppIR, Tenadyne LP, or other good multi-band HF beam in a future season.  The ideal antenna for me would be a SteppIR 4 element with two trombone sections that act as a 40-30 meter 2 element beam, 4 element 20-10 meter beam, and 6 element 6 meter beam, but this does not yet exist.  I sent Email to SteppIR asking if they had plans to make it since they have a DB-36 and MonstIR, but thay said NO (but to stay tuned!) so maybe it WILL happen someday!  Since the C4SXL has 2 elements on 40m as well as 20, 15, and 10, I look forward to checking out the performance of this antenna against my 40m vertical dipole and 40m horizontal loop that currently perform the duty for 40 thru 10 meters.  It may work out so well that I'll simply KEEP it!  I can't beat the price.
Tri-Ex LM470D 70 Ft Crank-Up / Tilt-Over (Motorized)
Yes, the beam is a little tilted… due to the W1TR Hanging Hinge Plate Mount needing some adjustments, TBD.
 <![if !vml]>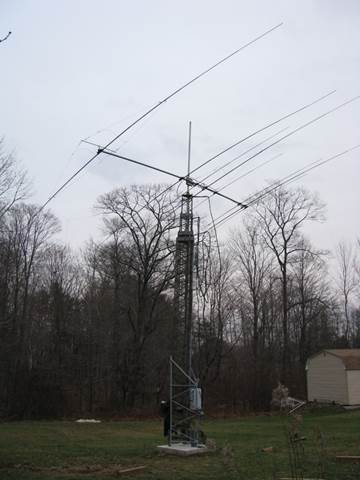 <![endif]> <![if !vml]>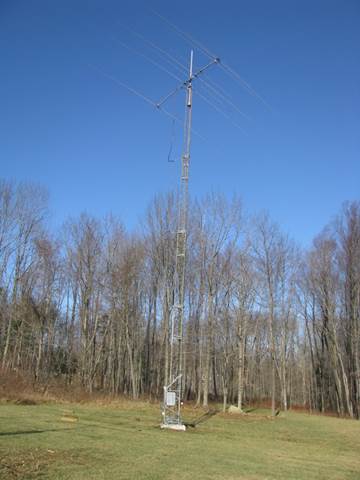 <![endif]> <![if !vml]>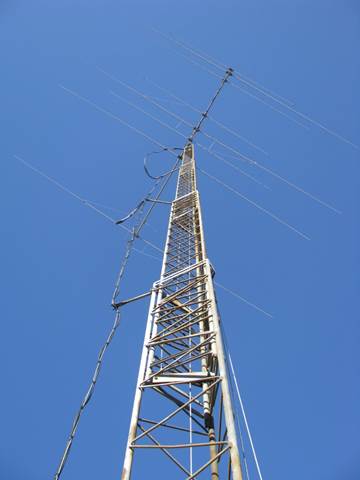 <![endif]>
After taking a quick drive-by and deciding to buy this tower, I gave Lou, K1YR, payment and arranged to come back the next weekend.  It was a cold but nice January Winter day but we had an easy time of it because of this little Toro fork lift to do all the heavy lifting!  Thanks to Paul, KE1LI, we had a very nice trailer to haul it back to Ashford.
<![if !vml]>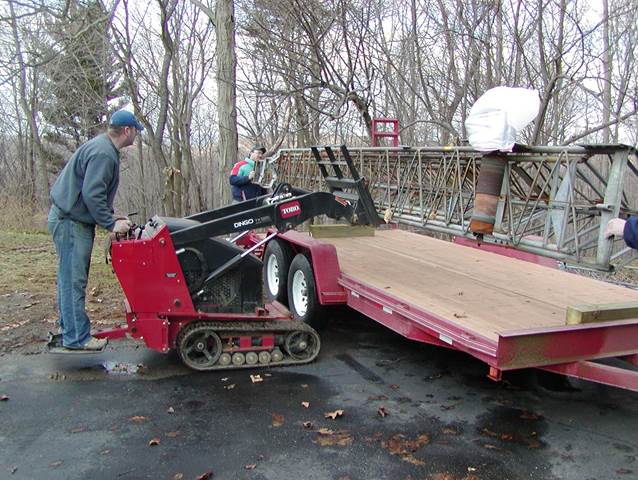 <![endif]> 
Frank, K1MAA (formerly KB1LKB), from Tolland, CT did the base construction for me!  He had lots of fun and did a great job for me digging the holes, installing the rebar, bases, and forms, and finishing off the concrete.
<![if !vml]>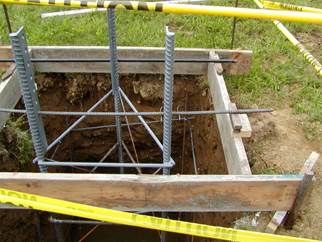 <![endif]>  <![if !vml]>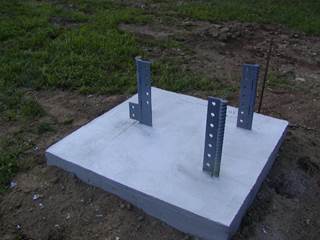 <![endif]> 
After waiting for the concrete to cure, we moved the LM470D from its winter resting place to the site of the concrete base using a small Bobcat that was there to help install an above ground pool.  The tower cables were replaced and then the tower was mounted on the tilt-over accessory shown below with Frank's (K1MAA) help.
<![if !vml]>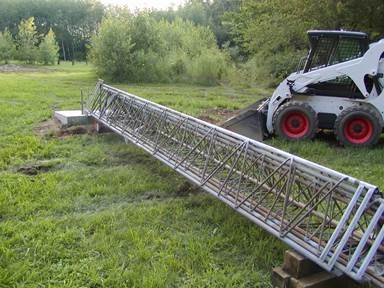 <![endif]>  <![if !vml]>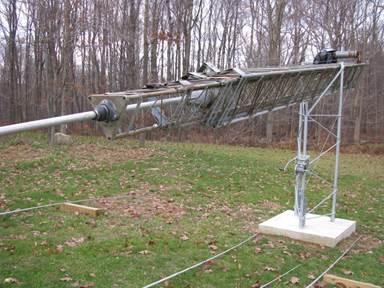 <![endif]>
I assembled the C4SXL beam antenna and replaced all the old hardware with new stainless steel items.
<![if !vml]>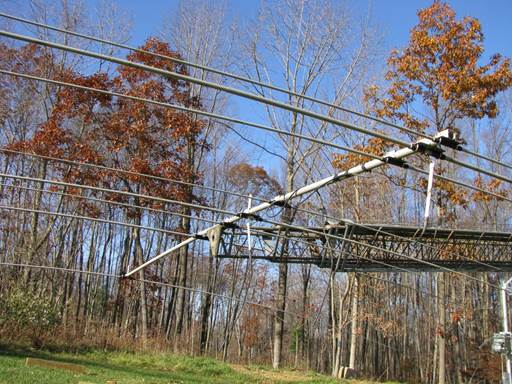 <![endif]> <![if !vml]>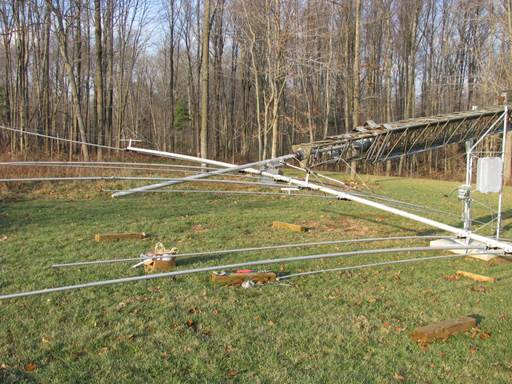 <![endif]>
The W1TR Hanging Hinge Plate allows the antenna to stay level while the tower tilts-up.  My XYL calls it the "aluminum swiss cheese" since it has so many holes drilled in it!  NN4ZZ makes a similar item called the Tilt Plate, but for $750, I decided to make my own for less than $200!
<![if !vml]>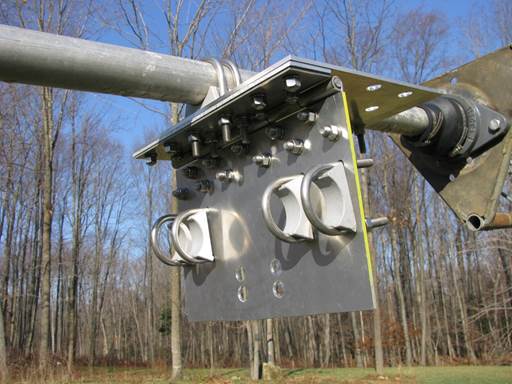 <![endif]> <![if !vml]>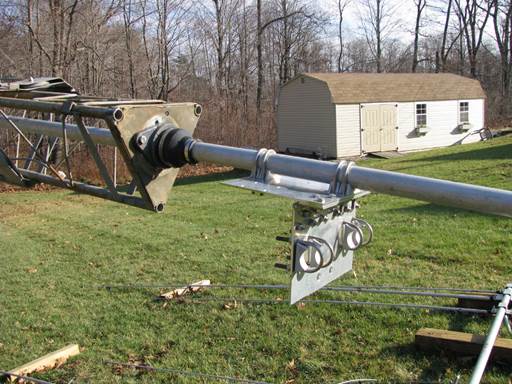 <![endif]>
Status as of 30 Nov 2008
I have the antenna fully renovated including the 40m linear loading wires, and it is connected to the coax for testing.  With the antenna in this position, I made a contact with W4MGA in Virginia on the 40 meter section, and with W6KJ in Calif and WA5ZAI in Texas on the 20 meter section.   SWR was less than 1.3:1 on 20m, but the 40m section was 2:1 SWR at 6.5 MHZ so it need some tuning up before it is operational!   But, technically it's ON THE AIR before either the snow flies, or the end of November!  It would be up NOW except we are having a sleet, snow, and rain storm going on today !
<![if !vml]>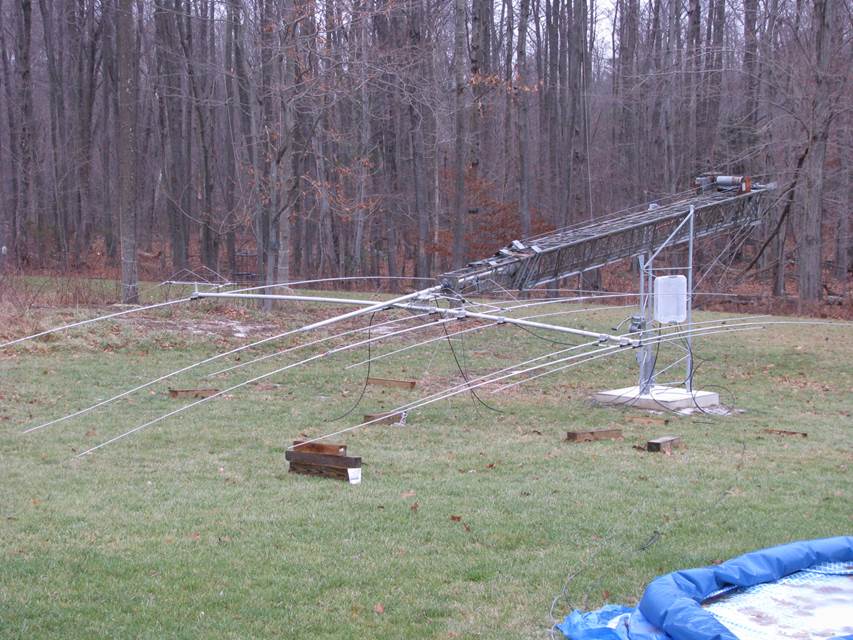 <![endif]>
Status as of 06 Dec 2008
The 40 meter section is now tuned to a center frequency of 7230 when at a 55 ft height.  The 20-15-10 meter section is tuned to 14135, 21350, and 28350 respectively but is less than 2:1 almost everywhere.  I will need to test the tuning and performance of the 40 meter section for quite a while before I'm satisfied that it is working up to it's capabilities.  So far it beats my 40m horizontal loop 1-2 S-Units on 40 meters, and 3-4 S-Units on 20 meters.  It is too late in the day to test 15 and 10 meters but maybe tomorrow!  By the way… the W1TR Hanging Hinge Plate works very well, but I need to check out the alignment of the U-Bolts with the clearance holes, perhaps saw them shorter, or make the clearance holes larger (the antenna is tilted about 10-15 degrees from horizontal at the moment because of that…).  As you can see, I got this done none too soon as the first snow of the season has flown (even if only a dusting to an inch).
<![if !vml]>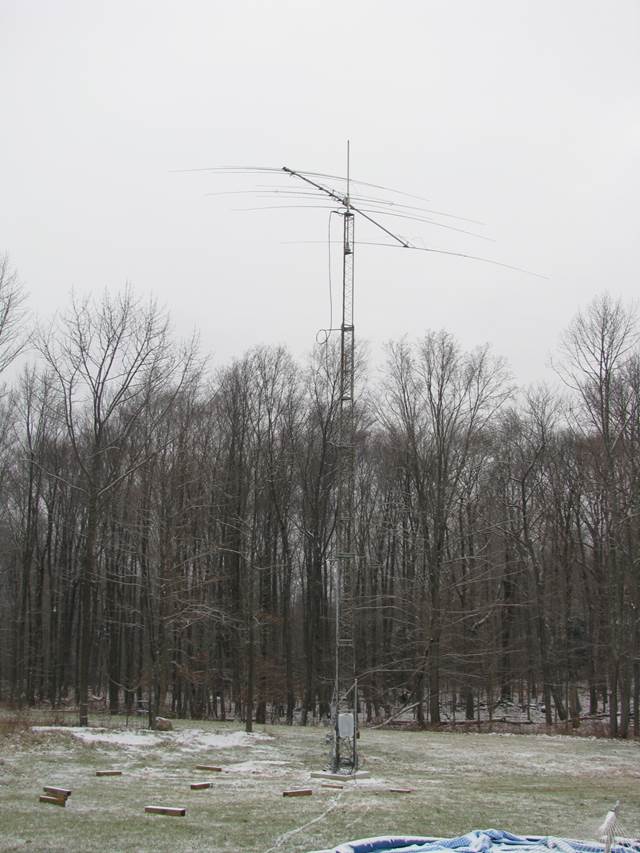 <![endif]>
Status as of 13 Dec 2008
I am trying the C4SXL today and tomorrow in the ARRL 10 Meter Contest… it works great, nice to have a decent antenna for the 10 meter contest for a change !  It's a beautiful day today but far too cold (22 degrees F) to work outside on anything unless it is a total emergency.  NE Connecticut narrowly missed a very severe ice storm that caught central and western MA, VT, NH, Maine, and NNY, over 1 million people are without power for now and some BIG GUNS like K1TTT and KC1XX are out of commission for months.
<![if !vml]>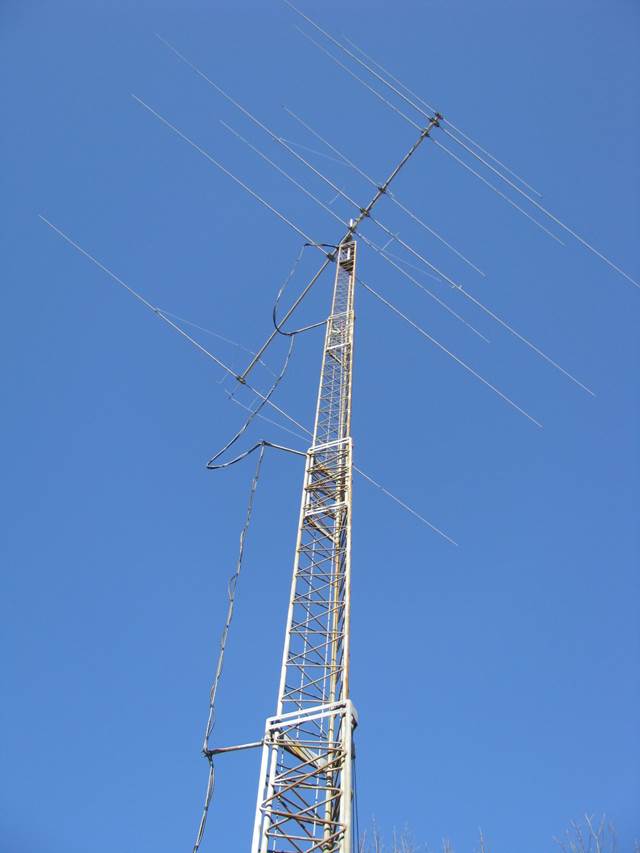 <![endif]>
Tilt Over Winch Added (05-Jun-2023)
A tilt-over winch was added to augment the manual winch used to tilt the HF Tower over.
Since the fulcrum of the tower is about 8 feet above ground, the bottom swings out and the top tilts over.
This makes the effort much easier than the installation process where the fulcrum is at ground level (1200 pounds).
However, as aging progresses and I become less strong and more lazy, I decided to install a tilt-over winch similar to the one for the VHF Tower.
<![if !vml]>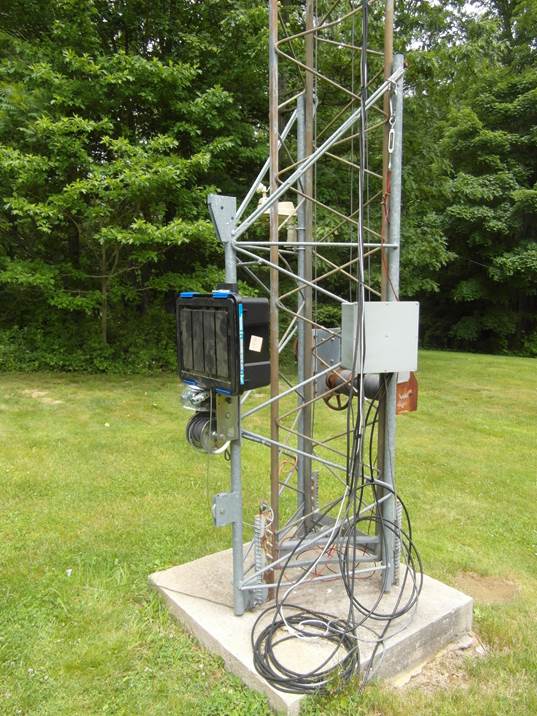 <![endif]>
Overall view of HF Tower Tilt-Over Winch.
Details of the HF Tower Tilt-Over Winch are here.
Frequent Visitors (02 Oct 2011)
I have frequent visitors to the antenna.  This one is a large hawk (don't know what kind… Red Shoulder Hawk??? sez the XYL).
The farmer across the street is harvesting the corn field and the hawk is looking for varmints that will come scurrying out of there.
<![if !vml]>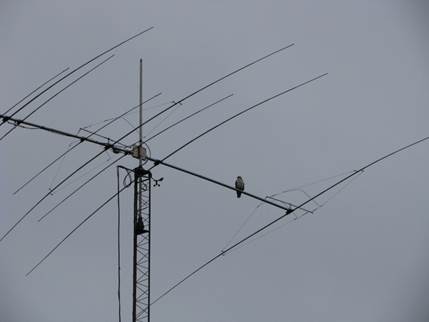 <![endif]> <![if !vml]>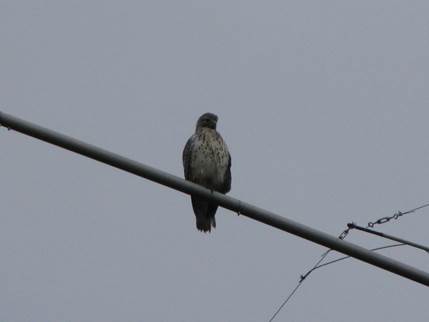 <![endif]>